'Resurrection: Ertugrul' Aims To Resurrect Our Culture Before It's Too Late
Charcha for Ertugrul… and Halime, of course
Turkish drama Dirilis: Ertugrul has gone viral both on the media and in Pakistani hearts. What makes Ertugrul such a bit hit amongst Pakistanis is the amazing production, cinematography, acting, the overall theme… literally all of it. Ertugrul has received a heads up from the Prime minister as well, who went on to make it accessible to a greater audience. 
He shares  his views over PTV telecast of Diriliş: Ertuğrul, and here's a translated extract: 
'The pseudo- western culture being promoted in Bollywood is leaving a very bad influence on our children. It harms our schools, drug culture is developing, there's an increase in sex crimes, children are being violated, when you spread this kind of dirt in the society. I want to promote a different kind of culture that tells people there was a way of life and values besides this dirt. Because this directly impacts the family system. Remember, when pornography rises in a society, the family system starts falling.'
It is a captivating way to spread knowledge about Islamic history, that's for sure. If you'd ask me, Ertugrul is famous because it has no loose ends. Someone dies, and it's for good reason, if not, it's tragic. The plot will revolve around the tragic death until you find closure in the story later. I think the script has beautiful detailing everywhere. Pardon me, but we're so used to talking about Shaadi and Sasural that we dare to defend our monotone Pakistani dramas. But that's a discussion for another day.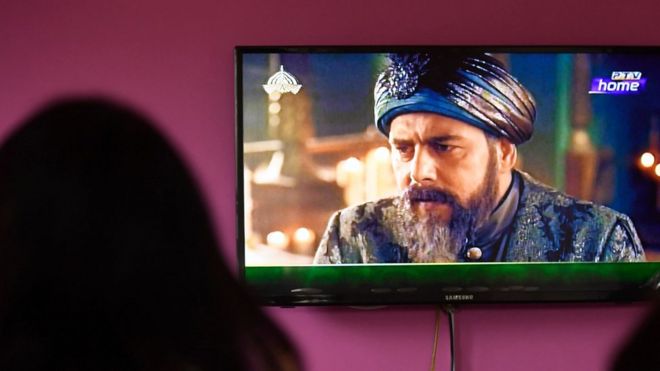 The thing is, we've accepted and embraced Ertugrul for being a well-set, immersive web series rich in Islamic culture. I recently met a relative of mine that got her share of Ertugrul in subtitles on Netflix way before it was made available on PTV. This is what she had to say: 
'I watched Ertugrul and I learned so much from it that I realized how foolish we are as a Muslim community. For instance, I saw this character doing tasbeeh after namaz. He looked up to the skies, took the beauty in, and said, 'Subhan Allah.' He gazed at the trees, and said, 'Alhamdulillah.' He looked all around him, took in the beauty of God's creations, and said, 'Allah-o-Akbar.' I thought, fitay munh hain humaray! We've always seen our parents rush past tasbeeh, and teach it to the generations that follow. These Turks are teaching us the Islam we're ready to honor-kill for.'
The Turks aren't all that religious themselves though. Turkey became a secular state without an official religion soon after Kamal Ataturk. Its deep-rooted Islamic identity is clashing with the freedom of secularism. The Turkish Muslims have openly embraced drinking, gambling, and all other vices prohibited in Islam. Why would such a thoughtful, detailed Islamic web series be produced by Turkey's state-owned TRT? 
I believe that they've experienced the fate our Prime Ministers warns us about. The more the exposure to dirt and smut, the more you will witness the family system failing. The more vice gets adopted in society, and soon becomes a norm, until a rich culture becomes a fragment of history we resurrect upon repentance.