Rape culture has made sexual violence normal, frequent, and often taken as an unavoidable situation. Protection is given to the attackers and their victims are seen as responsible for their own assault.
Rape Culture in Pakistan
With each passing day, the number of rape cases is increasing in Pakistan. According to the recent study of Human Rights Watch, a woman is raped in Pakistan after every two hours. We belong to that society where the rape is ignored and the victim is shamed and blamed. But it is high time to address this… We must put an end to this currently bourgeoning rape culture in our country. For this purpose, the government and the public have to work side by side.
Self-defense empowers women
Researchers have said that using the strategies of self-defense and resistance for rape prevention are real and effective solutions. Self-defense empowers the women to overcome their fears. They can tackle the threat to them, changing their beliefs about what they are capable of and what they deserve. Certain actions lower the chances of rape to more than 80 percent as compared to non-resistance. Here are some of the strategies that every woman should learn:
Vulnerable points
Before learning the moves, you need to know the vulnerable points which are the nose, eyes, throat, knee, solar plexus, and groin. Make sure to aim at these points with your moves for greater impact. Use force and aggression and present yourself as a robust and vigorous lady even if you are anxious at that time.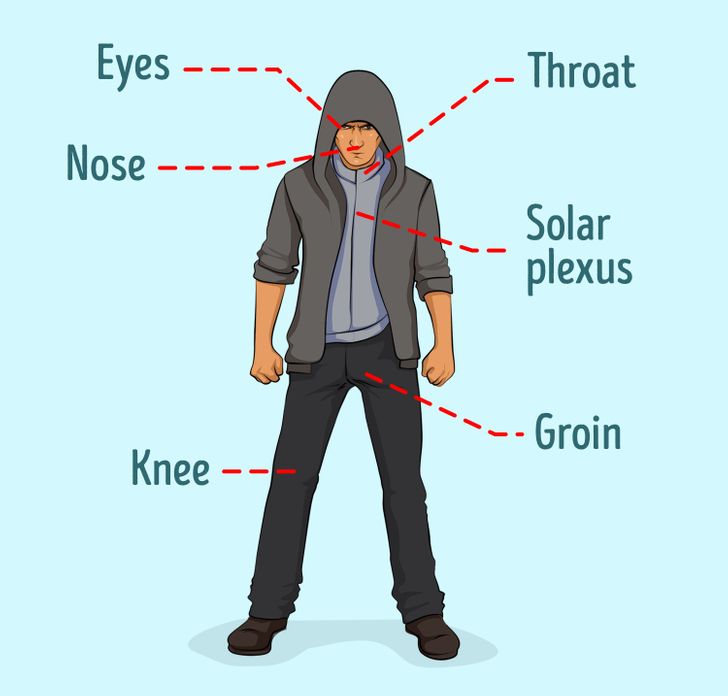 So, the first strategy is striking the assailant just like a hammer strikes on the nail; for that, you have to make good use of your car keys to defend yourself. Do not use your fingers because that can prove to be injurious. Hold the ring of the key in your fist tightly in a way that the keys are extending from the side of your hand.
The second move is the front kick in the groin, used when the assailant is coming at you from the front. This kick may have enough force to paralyze the attacker. First, you need to stabilize yourself and there is no chance of falling off. Elevate your right leg and push your knee in an upward direction. Then, expand the leg and kick forcefully after moderately leaning back. You can do that with the help of your hand as well.
To hurt the nose and throat the most effective move is the heel and palm strike, use your right hand and bend your wrist. Then, move your hand in the forward and backward position and jab the nose or throat with full force.
In order to get off the attacker's control, you can make good use of your elbow. Flex your arm at the elbow and then strike using your elbow into the mugger's jawline and chin. When the attacker moves back then hit his belly or chest with elbow again.
Measure to ensure safety for Android and iPhone users:
For Android users, they can go to the mobile settings, then to passwords and safety, clicking on to security you will see the Emergency SOS function, turn it On and add the trusted contacts.
For iPhone users, they can go to mobile settings, turn the Emergency SOS On and add reliable contacts.
If anyone will click on the power button in a rush for 5-6 times, the trusted contacts, that you have saved, will get to know of your current location through a message.
Feroze Khan's Initiative:
The very talented and generous actor Feroze Khan, who recently appeared in the drama serial Ishqiya along with Hania Amir and Ramsha Khan, took an initiative to deal with rape and harassment cases. He created a public page on Instagram "Protect Them Now". Any woman or girl, facing any kind of harassment or blackmailing can report to them and they will help her to get through this difficult situation.
Read more: The Plight Of Women in Pakistan
8090: Stop Harassment
The police of Islamabad Capital Territory, under the Gender and Child Protection Unit, has released a helpline for protection against harassment which is 8090.
What is our role as a society?
Our society needs to start speaking about the root causes of rape culture, redefine masculinity, stop victim-blaming. We need to broaden the understanding of rape culture, listen to survivors, and educate the coming generations. After the recent motorway incident, although we came to see some positive response from society and the government so far.
PM Imran Khan has approved the tabling of a bill to remove the testicles of rapists. We really hope that all these initiatives will bring change in our society and one day no woman of Pakistan will feel frightened while getting out of her house. All we need to do is always strive for change.
Read more: #HangtheRapistsPublicly: Another Day, Another Victim; Motorway Gang Rape
Justice For Dr. Maha Shah: Voicenotes From The Dead, And Criminals' Desperate Attempts To Avoid Conviction